U.S. Industries 1500 Ton Press Foundation
Commercial Metal Forming
|
Youngstown, Ohio
Overview
The in-house ability to design a 24'-0" deep shoring system and allow  minimal perimeter over excavation was the difference for CMF to call on Porter Foundations for this unique project.
Daily manufacturing of CMF's employees required a tight access corridor adjacent to new foundation on one side while existing building foundation restricted area on other side of the new foundation. We must design an economical, safe shoring system that will sustain the horizontal soil loads during excavation while  utilizing the same system to receive a one side forming technique of the new structural concrete foundation walls. The design of 30'-0" H-piles and heavy metal gauge lagging to remain in the foundation proved to be the most economical design and installation advantage to help CMF continue their daily functions during the new foundation construction.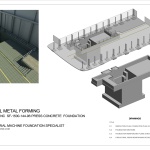 We experienced when passion is joined by capability. In having been involved in other installation projects in the steel industry, never has my team witnessed the combination of both to this magnitude. Some people are passionate and aspire to produce, but fall short of fulfilling expectations. Others have capability but lack sharing the same excitement and urgency that we have for the project. After working with Tom and his team, we can attest to the fact that, lead by him, the passion for exceeding expectations rivaled our team and the capability is unmatched.
President/CEO