Commercial Metal Forming Flanger Foundation
Commercial Metal Forming
|
Youngstown, Ohio
Overview
The deepest depth of this foundation was at the center of the footprint (-12'-0" B.F.F.)
We were able to eliminate Piling/ shoring method by utilizing an existing concrete foundation which did not interfere with the new foundation.  We stepped remainder perimeter excavation at O.S.H.A. approved slope toward perimeter -6'-0" B.F.F.. Constant on site supervision by Tom Porter, owner and trade carpenter foreman, reinforces cost savings to owners by performing innovative construction techniques.
Strict project timelines are continuously met as Porter will perform working with owners and Engineers as a team player for job satisfaction and completion.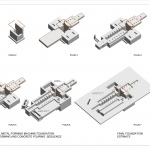 It was a sense of urgency that equals ours. Tom wasn't just cognizant of what we needed to accomplish, he embraced it. Tom became part of our team.
President / CEO