CMF U.S. Clearing Press Foundation
Commercial Metal Forming
|
Youngstown, Ohio
Overview
This press foundation was installed adjacent to a load bearing column foundation for the existing building. The proper shoring techniques stabilized the structural integrity of the column foundation before installing the new foundation.
Hanging rebar templates, water stop, and wall keyway from I-Beams extended across the excavation paved the way for the completion and success of this foundation installation.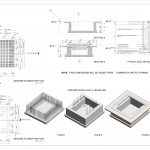 Tom Porter and his team are the best ! They did phenomenal work for CMF's installations!!
President / CEO